There are few things better in life than chocolate, and this hot fudge is full of rich and oh-so-lovely chocolatey goodness. I would say it's on the darker side of the spectrum. I don't like fudge that is too sweet or else it's just too much when added to the lightness of ice cream.
This recipe is exceptionally easy since it deals with cocoa and not the actual melting of chocolate. Your children could definitely help with this one until it starts to boil. A parent should stir it then.
This is way better than store-bought. It's frugal and fabulous! Use the leftover milk in your next batch of mashed potatoes for extra creaminess if you don't have another recipe for it.
So, get out your best vanilla bean ice cream and get ready for a decadent treat! I love it when the fudge is hot enough to partially melt the ice cream. If you are determined to eat it cold - just skip the ice cream. It's great straight from the fridge like a pudding or, as in the picture, with some whipped cream. Enjoy!
Heaven's Hot Fudge
3/4 cup powdered sugar
1/2 cup cocoa
1 cup evaporated milk
1/4 cup butter
1 1/2 teaspoons vanilla
1. Combine the sugar and cocoa in a small saucepan. (Regular granulated sugar will work, too.)
2. Blend in the milk with a whisk stirring constantly over medium heat until boiling.
3. Boil and stir one minute.
4. Remove from the heat. Stir in the butter and vanilla until the butter has melted into the chocolate.
5. Don't wait for it to cool! Serve immediately over a bowl of ice cream. For extra fun, chop in some banana before you drizzle the hot fudge in the bowl.
More chocolate recipes:
I was featured: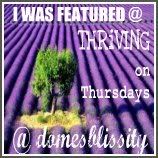 I linked here: Modest Mom Munching Monday Frugal Crafty Home Recipe Swap Mix It Up Monday Happiness is Homemade, Meetup Monday, The Art of Homemaking, Mom2Mom, Merry Monday Making Memories Monday Monday Funday, Busy Monday Inspire Me Monday
Roses of Inspiration
The Scoop Loulou Girls Brag About It Tasty Tuesdays, Treasure Box Tuesday Anything Goes Tuesday Talk Two Uses Tuesdays
Two Cup Tuesday
Share It
Tickle My Tastebuds
From Dream to Reality
Whimsy Wednesday
Wonderful Wednesday
Wake Up Wednesday
Hit Me With Your Best Shot
Create and Share
Wordless Wednesday
Share It Wednesday
Thriving on Thursday
Creative Spark
What's Cookin' Wednesday
Work It Wednesday
Showcase Your Talent
Cook It Craft It Share It
Favorire Things Thursday
Full Plate Thursday
Wildly Original
Bakers Gonna Bake
My 2 Favorite Things
Idea Box Thursday
Your Turn to Shine
WAYWOW
SHINE
Think and Make
Growing Circles Hop
Frugal Friday
Weekend Wind-Down
Feature Fridays
Snickerdoodle Sunday
Saturday Sharefest
Friendship Friday
Show and Tell
No Rules Weekend Party
Weekend Retreat
Throw Back Thursday
Home Matters
Link Party Palooza
Life on Lakeshore Drive